Earthquake and Flood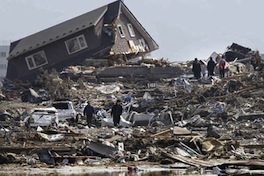 Do you realize that most insurance policies do not cover flood and earthquake?
Earthquake
An earthquake is a terrifying natural disaster. Without an endorsement to your Homeowner policy there is absolutely no coverage for an earthquake. Your home is one of your largest assets and a large loss could be devastating.
You may say to yourself, "Why bother to purchase this coverage, there will never be a major earthquake here." But did you know that Massachusetts is on a fault-line and there is potential for a quake strong enough to do damage to your home and/or personal property? If your house shook violently enough not only could there be structural damage but everything inside that is breakable could be damaged or destroyed as well.
There is little that can be done to accurately predict the time or the location of an earthquake but in the event it should take place in your area you can be protected with earthquake coverage.
Floods
Don't wait for disaster to strike! A policy takes 30 days from application to effective date of coverage. Recent natural disasters and changing weather patterns have shown that floods can happen almost anywhere. Flood losses are excluded in homeowner, dwelling and commercial property policies. In order to protect your investments you should consider flood coverage.
A Flood is defined as a general and temporary condition of partial or complete inundations of normally dry land area from:
The overflow of inland or tidal waters
The unusual and rapid accumulation or runoff of surface waters from any source
Mudslides or mud flows that are caused by flooding and are akin to a river of liquid and flowing mud on the surface of normally dry land areas.
To assess your risk please call us or visit FloodSmart.gov. Keep in mind that flood policies can be quite inexpensive if you are not located in a flood zone.
Contact us for more information today!